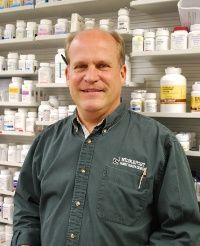 Stephen Giroux
Meet Our Owner
Stephen Giroux went into business for himself in 1983, just two years after graduating from The University at Buffalo. He and good friend Bruce Moden purchased Middleport Family Health Center together. Since then, he has become an owner or co-owner of seven pharmacies and a medical supply store. His businesses include Middleport Family Health Center, Transit Hill Pharmacy, Rosenkrans Pharmacy, Hilton Family Pharmacy, Oakfield Family Pharmacy, Wurlitzer Family Pharmacy, Summit Park Pharmacy, and Lockport Home Medical.
Stephen Giroux has been active in advocacy efforts for independent pharmacies for close to 40 years. He has represented Independent Pharmacies across the United States as a past president of the National Community Pharmacists Association (NCPA). He has also been heavily involved with local organizations and served as president of Pharmacists Society of the State of NY (PSSNY) and Pharmacists Association of Western NY (PAWNY). While president of NCPA, Stephen even represented American community pharmacists at venues such as Bayer meeting in Berlin, a Federation of International Pharmacists meeting in Switzerland, and meetings and speaking engagements all over the United States.
Outside of his businesses, Stephen loves to spend his time with his family. Every year, he, his wife, his seven children and his now 13 grandchildren make an effort to go to the Thousand Islands for a week of camping, boating and relaxation. One of Steve's favorite hobbies is golfing and always loves it when he can take money from his son on the golf course. But the most important thing to Steve is his relationship with Jesus Christ. Steve has been on many missions' trips around the world sharing the Gospel of Jesus Christ to those that may never otherwise hear it. He and his wife Carolyn have been to countries in Africa, South America, Asia, and to Mexico sharing the Good News.